In what will be the biggest fight on the Australian scene this year Jeff Horn with face Tim Tszyu on Wednesday night. Horn has the experience and paying $2.75, while Tszyu has the pedigree and and paying $1.44. One thing we do know….. Tim never got made fun of at school because of how his name sounded
And we kicked off a tipping results newsletter that will be out each Monday arvo so if you have any tips, advice or just want to tell us how amazing/sh*t we are, hit us up at tips@puntclub.com and keep us on our toes.
To be fair, we have become more scientific with our tipping techniques. The footage below shows how the tips were made when we first started doing them in 2015. Now we use a screw instead of a nail.
And GO!!
The Punt Club Crew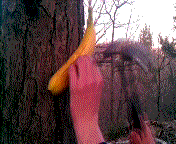 BEST BETS – AFL
Hawthorn head a little bit West to meet Port Adelaide tomorrow arvo in Adelaide with the Power looking to bounce back after a touch up last week. The Hawks went ok last round but that wasn't reflected in the scoreline and with their forwards struggling we don't see them kicking a lot of goals and inflating the overall score. Total points Under 119.5 for us at $1.87.
And on Sunday Geelong will meet Adelaide in Adelaide….. which will make f*ck all difference. The Crows sort of came to life last week, but then realised who they were and got back to old habits real quick in the second half. The Cats are firing and look to be ramping up to a promising Finals campaign where they will probably do their old trick and go out in straight sets. But this week should be a breeze and we will be on Geelong by 1-39 at $2.10.
BEST BETS – NRL
St George will meet Brisbane in Brisbane tonight with a pretty basic premise. Keep winning. So lucky they meet the Broncos. Brisbane couldn't sustain a full game performance last week, while the Dragons picked off the Eels to keep their Finals dream alive after a handy month where they have pushed contenders. Having more to play for, while also having won their last 3 encounters sees us tipping St George by 13+ at $2.10.
Then tomorrow arvo a travelling Canberra will meet the Gold Coast. The Raiders had a cracking second half last week, while the Titans had a loss to the Sharks but did show some heart. It does look like the Titans will have injury concerns though and with Canberra having won their last 3 encounters by 13+, our hard-earned will go on Canberra to win by 13+ at $2.02 and keep the momentum going.
BEST BETS – HORSES
It's been said that "remember when" is the lowest form of conversation…. but remember when Winx was running? Our Queen. We can recall the memories this week with the first Group 1 race of the season to be run and won on Saturday with the Winx Stakes. It will see a handy field of classy units, and our hard-earned will be sitting with No. 2 The Bostonian. We won't say criminally-underrated, but he has won 3 G1's over his career and has 6 wins from 7 starts when fresh but he seems to get forgotten. Which explains the $6.50 you can currently get. Delightful.
Our best bet of the day is R5, No. 2 Special Reward. A classy number who has a good fresh record and his 3 trials leading up were good. Paying $6 at the moment but could shorten on the day.
The Punt Club Crew
HORSES & SPORTS
Winx Stakes – Randwick
R1: No. 2 Desert Path – Won last start at Rosehill and has good form here ($3.70/$1.40)
R2: No. 15 Pinnacle Prince – 1 from 1, not carrying much and has drawn well ($3.80/$1.70)
R3: No. 12 Rothenburg – Loves the heavy stuff and has been going well this prep ($9.00/$2.90)
R4: No. 3 See You Soon – Placed here last start and won't have to work much from the gate ($3.40/$1.40)
R5: No. 2 Special Reward – Good fresh and if he gets the sit, it will take something special to run him down ($6.00/$2.15)
R6: No. 6 Adelong – 6/8 and trails last week was handy and clearly the class unit of the field ($2.00/$1.22)
R7: No. 2 The Bostonian – 6 from 7 first up and has 3 G1's under his belt ($6.50/$2.40)
R8: No. 11 Kinane – Trials have helped fitness and has won at this venue ($5.00/$2.00)
R9: No. 14 Valdostana – Should get a nice sit behind the leaders and get over the top of them ($4.60/$1.90)
Prices correct at 1.00pm ACST
AFL
Hawthorn Hawks @ Adelaide Oval – Port to bounce back at home over a Hawks side that struggles to score
Bet Total Points Under 119.5 $1.87
Geelong Cats @ Adelaide Crows – Cats in form and the Crows are the absolute opposite of that
Bet Geelong 40+ $1.83
NRL
St George Illawarra Dragons @ Brisbane Broncos – Dragons have won 3 straight against Brisbane and the trend should continue
Bet St George 13+ $2.10
Canberra Raiders @ Gold Coast Titans – Canberra to carry in last weeks form over an injury-hit Titans outfit
Bet Canberra 13+ $2.02
AFL/NRL 4-Leg Multi $16.66/unit