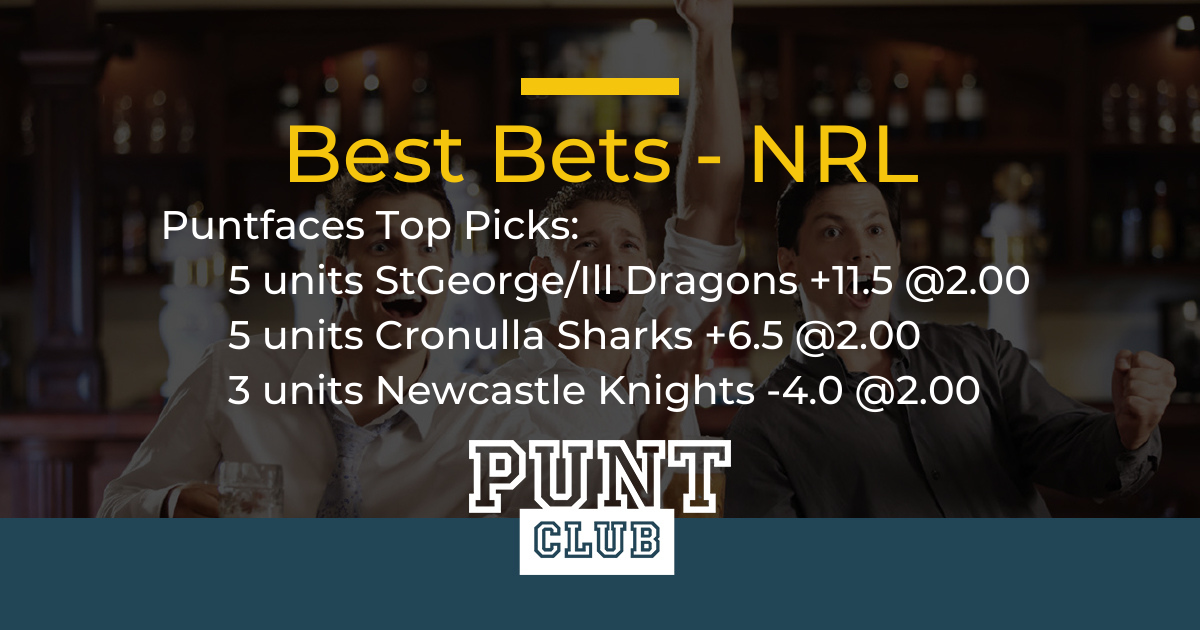 Punt Club's NRL Guru has been avoiding ladders and black cats all week as he prepares a big week with 13 units put in play for the 13th round of the season. Upon seeing the generous $2 lines at Ladbrokes his palms immediately got itchy and he's confident of breaking profit records and not mirrors this week. Knock on wood.

Suggested Bets:

5 units StGeorge/Ill Dragons +11.5 @2.00
5 units Cronulla Sharks +6.5 @2.00
3 units Newcastle Knights -4.0 @2.00

NRL Round 13 Match Previews

StGeorge/Ill Dragons vs Sydney Roosters
Assessed Line: Dragons +6.0
Ladbrokes: Dragons +11.5

Traditional rivals go at it Friday night in what will be an intense battle. The Saints have struggled in recent weeks after a patch of good form but should rise to the occasion back at their favoured WIN stadium and boosted by the return of Clune and Merrin. A depleted Roosters side has also struggled of late, though still winning, and have interestingly dropped their halfback Flanagan. This will be a close contest and the Dragons big plus is the BET OF THE ROUND.

Manly Sea Eagles vs New Zealand Warriors
Assessed Line: Sea Eagles -10.0
Ladbrokes: Sea Eagles -11.5

An injury ravaged Manly side will be desperate to get the 2 points at home to keep their finals hopes alive. Despite a lack of troops, I'm sure Des will have them primed and focussed against a Warriors side who have played surprisingly well in recent weeks. However, NZ rarely win 2 in a row and with a somewhat reluctant coach and the departure of Blake Green they are likely to not turn up mentally. No real value or confidence to bet in this one though.

South Sydney Rabbitohs vs Brisbane Broncos
Assessed Line: Rabbitohs -10.0
Ladbrokes: Rabbitohs -10.5

An intriguing Friday night match and not just for the much hyped Bennett vs Seibold storyline. Brisbane have dominated Souths since they entered the NRL and have won 8 of their past 10 clashes but as we know, things have dramatically changed in 2020. Fifita finally returns for the Broncos but how will the new Gold Coast recruit actually perform? Croft is also back but his form has been nothing exceptional and Milford is sidelined with injury but that could be a blessing in disguise? Souths have named Reynolds despite injury concerns and it's fair to say both teams have a tendency to switch off in matches, the Broncos particularly. Perhaps more confusing than intriguing, one to watch only.

Melbourne Storm vs Canterbury Bulldogs
Assessed Line: Storm -12.0
Ladbrokes: Storm -13.5

A fortnight ago this would have been considered a gift 2 points for the Storm but the Bulldogs have impressed in recent weeks whilst the Storm lose their leader Cam Smith and will be without young gun Papenhuyzen. Melbourne have won the last 4 clashes between these sides but overall their wins have been split very evenly. No doubt Bellamy will prepare the understrength Storm outfit to grind out a win but I can't see this being a total blow-out against a plucky Dogs side.

Newcastle Knights vs Wests Tigers
Assessed Line: Knights -6.5
Ladbrokes: Knights -4.0

It's been a horror stretch of injuries for the Knights with Bradman Best now added to that list, forcing them to rush journeyman Blake Green into the side. The Tigers have also lost a rising star in Harry Grant and face the difficult road trip to Newcastle. Much like the Storm and the Bulldogs, these two teams have evenly split their wins over the years but the Knights are benefited by home ground advantage and with a stronger team will prove victorious on this occasion. Great VALUE in their price.

Penrith Panthers vs Canberra Raiders
Assessed Line: Panthers -6.0
Ladbrokes: Panthers -6.0

Two very impressive teams do battle in a much anticipated clash on Saturday night. And while on the subject of evenly split teams, it doesn't get any closer than these two rivals, having won 38 a piece with 1 draw between them. The Raiders are on a 3 game winning streak whilst Penrith just refuse to lose, having won 7 an incredible straight! With Cleary in sublime form and back at their home stadium I expect the Panthers to equal their club record of 8 wins in a row. No meat on the bone to bet but should provide classic viewing.

Gold Coast Titans vs North Qld Cowboys
Assessed Line: Titans +2.0
Ladbrokes: Titans +3.5

Gold Coast and North Qld have only 1 win between them in the past 5 rounds but both teams will consider this a very winnable match. The Titans are steadily improving under their new coach and have been competitive in recent weeks boosted by the recent inclusions of Proctor and Brimson. The Cowboys have been struggling all year but Michael Morgan makes his long awaited return and with McGuire and Opacic also back in the side they look a lot more settled this week. Having won their past 10 matches against the Gold Coast, the Cowboys will be full of confidence and deserve slight favouritism. However, with Jai Arrow needing to pass his HIA protocols, it's a no bet match.

Cronulla Sharks vs Parramatta Eels
Assessed Line: Sharks +4.0
Ladbrokes: Sharks +6.5

Plenty of positives for the Sharks this week with Moylan and Ramien returning along with Josh Dugan for his milestone 200th NRL game. They've won 6 of their past 7 against the Eels and have arguably been in better form over the past few weeks. With the Eels playing away from their much preferred "fortress Parra", I see no reason why the Sharks won't be highly competitive again and with a bit of rain around the start is very generous, especially for a side who can score plenty of points. Another BEST BET to finish the round on a high.

Good luck and great punting,
Punt Club NRL Guru