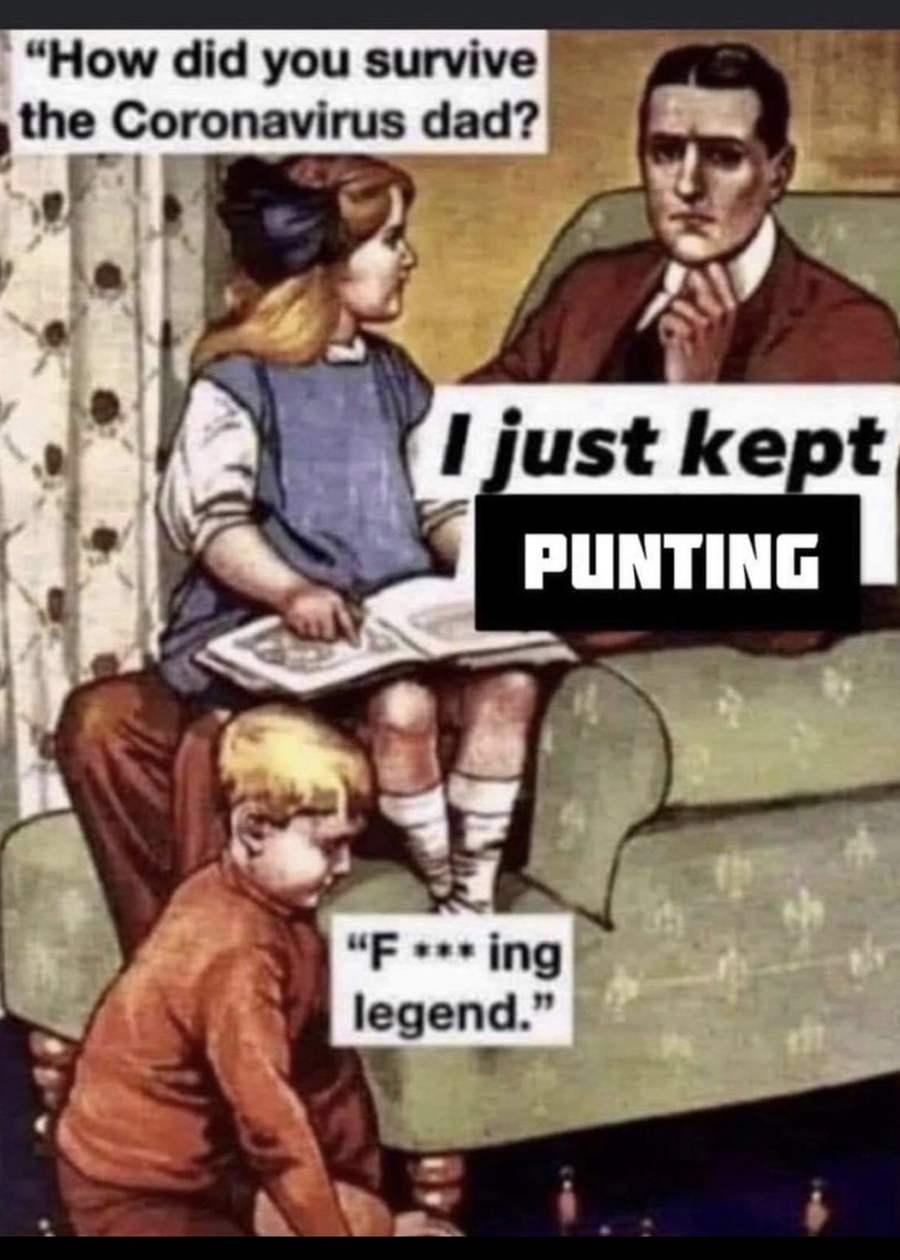 Can't type. Drinking.
Go long,
The Crew
p.s. The Punters Club Cup is bigger, better, badder. You'd have to be dumber than Dan not to enter. $12k, big-ass boats, nags & madness awaits.
THE PUNTERS CLUB CUP OFF TO A FLIER
We kicked off proceedings last week and people came out of the gates like they'd been marinating in Angel Dust all winter. Two notable winners are high-fiving anyone who doesn't awkwardly offer an elbow in reply – and with good reason given the numbers they're posting. Nobody can keep this up though. Surely?
BEST CLUB PERFORMANCE
*The Punt Gluts (*not their real name) score a $50 bonus for every member in their club after two members combined for a 687% return across two racing multis.
BEST INDIVIDUAL PERFORMANCE
Leo N from The Punty McPuntface club will be literally crapping caviar after turning some crazy mixed NRL multis into a 1824% return. He scores a $100 bonus, and no doubt a friendly pat on the crown from his fellow club members.
Enter your club (or start a new one) here.
BEST BETS – AFL
Geelong and Richmond meet tonight with the Cats carrying a 6 game winning streak and the Tigers carrying d*ckheads galore. Geelong's defence has been properly tight, and we see that spelling trouble for Richmond side that struggles to score. Geelong by 39 or less at $1.94.
And on Saturday evening Essendon will take on Port Adelaide. The Bombers still have a mathematical chance of making the finals, but we don't see the Power being real accommodating in that regard, so we have Port by 40+ at $2.45.
BEST BETS – NRL
Manly meets Canterbury tonight with f*ck-all on the line because they have both sucked for weeks. The Bulldogs are trying to avoid the spoon, but the Sea Eagles should be taking care of this even if they haven't won since June. Manly by 12 or less at $2.75.
Then on Sunday arvo North Queensland will meet Melbourne who have gotten back on track. The Storm won't be resting any players given their ladder position, so the Cowboys should prepare for an onslaught. Melbourne by 13+ at $1.42.
BEST BETS – HORSES
Back to Rosehill for out feature event this week with the Run To The Rose getting our undivided attention and we can't go past 1. Farnan. Has won 5 from 6 career starts including the Golden Slipper last start and in a small field, we reckon he picks himself at $2.40.
Our value bet of the day is R8, No.1 Flit. Has come up with a very ordinary gate, but has the blinkers on and over a shorter trip we reckon she can get over the top at the ridiculous price of $18 (so boost the crap out of her for 20s+).
20 beers when she wins!
The Punt Club Crew
HORSES & SPORTS
Run To The Rose – Rosehill
R1: No. 3 Cadre Du Noir – Dominant win last start to break maiden and should be handling this lot ($1.75/$1.12)
R2: No. 8 Yulong Base – Yet to be out of the placegetters and handy hoop knows hot to ride him ($3.40/$1.60)
R3: No. 6 She's Iddel – Has won 4 of 8 as fav and will appreciate the give in the turf ($4.20/$1.80)
R4: No. 5 Masked Crusader – Just missed last when heavily backed and will make up for it here ($1.95/$1.18)
R5: No. 9 Yardstick – Will roll forward from the gate and appreciate the harder ground than last start ($7.50/$2.35)
R6: No. 1 Farnan – Making his Spring return and trials have been properly good ($2.40/$1.40)
R7: No. 5 Funstar – Draws perfectly to sit off the speed and come over the top ($3.20/$1.40)
R8: No. 1 Flit – Ordinary draw but Bowman can ride her and blinkers back on and we love the value ($18.00/$5.50)
R9: No. 16 Kingsheir – Has drawn perfectly and brinks a cracking record ($4.80/$1.95)
Prices correct at 12.30 pm ACST
AFL
Richmond Tigers @ Geelong Cats – Cats to keep their winning streak going against a distracted Tigers outfit
Bet Geelong 1-39 $1.94
Essendon Bombers @ Port Adelaide – Port to give the Bombers a hiding
Bet Port Adelaide 40+ $2.45
NRL
Manly Sea Eagles @ Canterbury Bulldogs – A race to the bottom with Manly to finally get a win after several weeks
Bet Manly 1-12 $2.75
Nth Queensland Cowboys @ Melbourne Storm – The Storm have won 10 on the trot against the Cowboys and that won't be changing
Bet Melbourne 13+ $1.42
AFL/NRL 4-Leg Multi $18.56/unit