Round 6 Preview
Easter long weekend is upon us and there is a tremendous round of NRL to devour along with our body weight in Cadbury eggs & hot cross buns!

Let's find some winners shall we…
Raiders ($1.57) vs Cowboys ($2.45)
Cows beat Raiders in round two 26-6
Hess back for Cows
Cows awful last week
Frawley drops out for Raiders
Raiders pumped by Storm last week
In some awful programming, the Raiders & Cows do battle 4 rounds after their last encounter, where the Cows thumped Canberra up in Townsville. Both these sides have had their attacking woes this season and you would imagine defence is the main focus of both these sides. The bounce back factor is real in rugby league and both will be looking to do so. This should be a physical and tough battle, I think the Cows pack can come out on top and they represent value at the line.
Rabbitohs ($1.28) vs Bulldogs ($3.70)
Mitchell out for an extended period
Taaffe to FB
Dogs need to find points
Dufty was awful last week
Time of year for miracles?
Good Friday sees and early game with a 4pm kick off from Accor Stadium in Sydney. The Bunnies will be without Latrell Mitchell whose hamstring injury looks worse than first thought & he looks set to miss a couple months of footy. Taaffe is a promising youngster who filled in well last season in the absence of Trell, but the big fella at the back will be hard to replace. The Dogs have shown some rare glimpses of improvement and their effort has been sound. They have a lot to improve on but I'm tipping they can keep this one close. Dogs with the start.
Panthers ($1.06) vs Broncos ($9.25)
Haas would kill Kelly if they actually went at it!
Haas missing due to suspension
Penny should bolt in
Bloodbath incoming
Without Haas and a few others out it's impossible to see the struggling Broncos beating the Panthers, but it is the time of year for miracles I guess…

Nathan Cleary hasn't really hit the ground running since his return from injury but he's been building into a dominant performance and we could see that here. The more minutes he's played, the more he has looked to take the line on. With Brisbane's woeful defence, I'm going to try and find some sort of value in this game and back Cleary to score a try.
Manly ($1.55) vs Titans ($2.45)
Manly won without Turbo
Titans are a bad team at times
Manly are a bad team at times
Is Fifita on his way back?
Two teams that can be hard to line up on occasions, Manly weren't expected to win last week without Turbo but they put in a big performance to bolt in. The Titans show glimpses of decent footy but it's often overshadowed by some absolute filth. Manly at home, off the back of a big win without Turbo, I'll back them to be too good for the Titans.
Storm ($1.38) vs Sharks ($3.05)
This shapes as a cracker!
Two top 4 teams going at it!
Hynes & Finucane return to Melbourne
Bring it on!
Game of the round and one I can't wait for! The Sharks consider themselves to be premiership contenders this year and this game will give us some idea of whether that's ambitious or a reality. Whilst only early in the season, you get the sense that this is a game that neither team will want to lose. Hynes has been in super form for the Sharks and returns to AAMI park for the first time – He won't get any favours! This shapes as a tight, quality battle. Sharks with the start.
Roosters ($1.18) vs Warriors ($5)
Teddy starting to find form again
Warriors big boys look fighting fit
JWH vs AFB
Both teams 3 from 5 this season
Physical contest!
The Roosters pack have been outmuscled a few times this season and big JWH will need to put his team on his back against a massive Warriors pack. I'd expect Robbo to challenge his pack against the Warriors and this could be a brutal contest in the early stages. Love to see it! The game will inevitably open up, always broken field play with the Warriors playing. Teddy is suited to carve the middle once the big boys are tired and I'll back him to score.
Dragons ($1.65) vs Knights ($2.25)
Both sides desperate for a win now
Hook & the Dragons still without Sloane
Knights need more from Ponga
Hunt needs more from the Dragons
This will either be a real bludger (likely) or a hard fought and close contest. Both sides are starting to get desperate to find another win. The Knights aren't going as bad as the Dragons who have only won one game since the infamous BBQ-Gate. Ponga copped a few knocks last week in their loss and his team will be hoping he stands up and delivers. Hard game to have much confidence in but I'll back Ponga to stand up against inferior opposition. Ponga to score a try.
Eels ($1.05) vs Tigers ($10)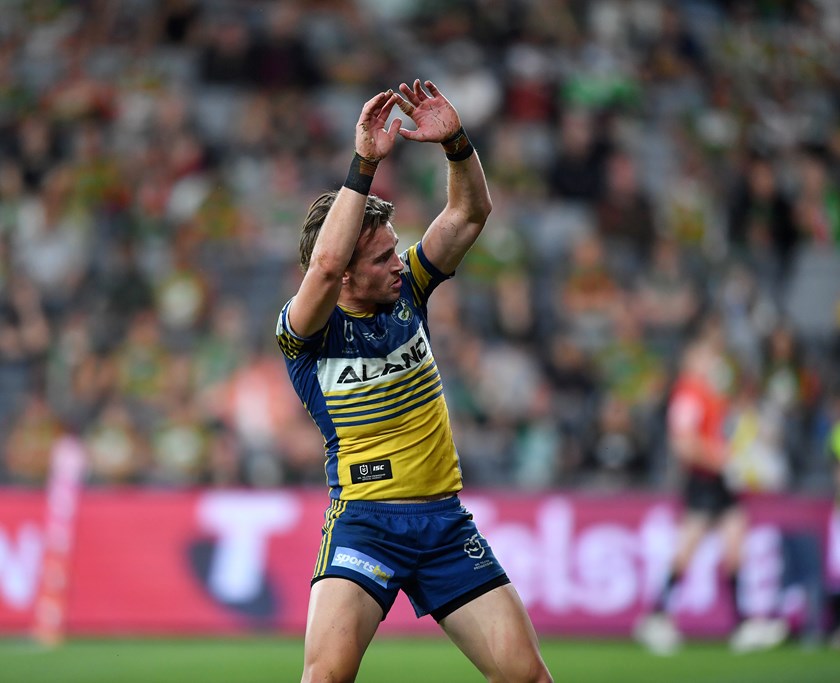 As it stands – Parra shortest priced favs
Parra a very good team
Tigers not a very good team
This could get ugly
If there's one thing flat track bullies love, it's flat tracks…

It's been a painfully tough season so far for the Tigers and that looks set to get a heck of a lot worse on Monday arvo when they face Parra. We've seen time and time again that the Eels love playing bottom 8 teams and you can't get much worse than the Tigers at present. King Gutho grabbed two tries last week and he's one of the best support play FB's in the game. Back him to score a try.
Good luck & good punting!
*All prices and lines are correct as of the time of writing & are courtesy of Ladbrokes, who are offering $2 lines on Thursday & Friday games during Round 6. T&C's apply, check their website for more details.

Gamble Responsibly – 1800 858 858